Hello and welcome to The Hanger Club! A brand new series atop The Garbage Pile wherein we show you not only our favorite vintage havens, but where to eat and drink nearby. Never again will a brunch deficit in your stomach lead to clouded sartorial judgement. We'll give you the lowdown on each spot AND we'll make you a map so you can feel like Jacques Cousteau, but replace sea creatures with kitten heels and pumpernickel bagels. First under the microscope: a little ditty called Greenpoint, Brooklyn.
Ah, Greenpoint. The Land Far Far Away from Times Square. I fell in love with the Brooklyn enclave the minute I escaped the clutches of the G Train for the first time. Greenpoint veers somewhat from the typical New York City paradigm. Absent are the thumping, fist pumping, bottle service pushing clubs. The jumbotron TV screens begging you to shop HM's latest collection. The tourist shops slathering "I Heart NYC" on every thinkable surface. Greenpoint has all the best style, character, food and shopping that New York City has to offer, but in a laid back, Axe Spray free environment. Essentially, it's perfection.
Behold, fair thrifter. Your Map: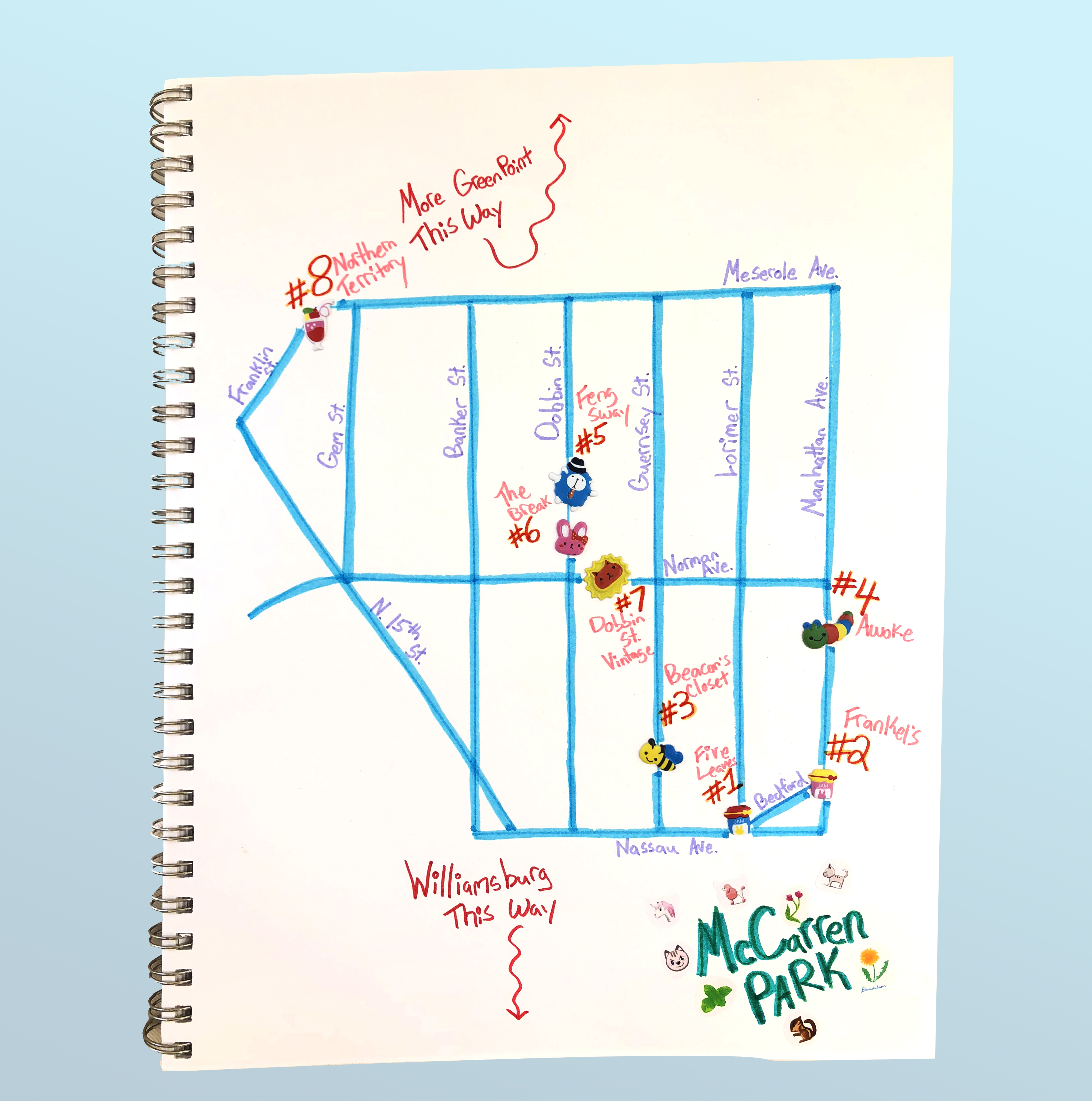 Or, you know, fine here's a "practical" map too.
Time for introductions. Let's start with breakfast.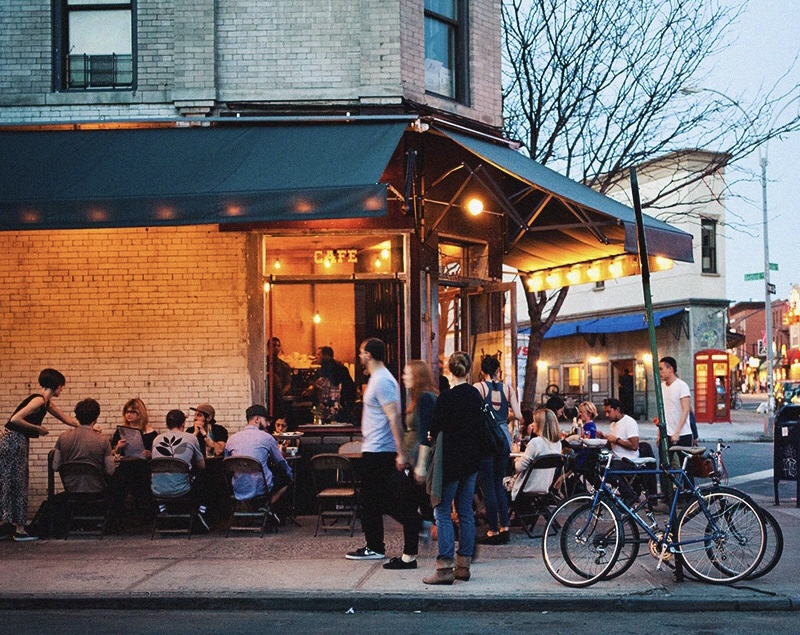 Synopsis in Pickup Line Format: Hey there, you Aussie-inspired brunch scene behemoth. Wanna snuggle tonight? You, me and the ricotta pancakes. I'm digging your quintessential Brooklyn ambiance and you're just oozing that "I make a killer latte" confidence.
You should try: The Moroccan Scramble, Big Breakkie and Devils on Horseback.
Survival Tips: Get there early if you can; the weekend wait is substantial. And sit outside. It's a lovely way to judge people's shoes at your leisure.

Synopsis in Scientific Method Format:
(Pastrami Sandwich x House made Pickles) = Happiness²
You should get: The Egg and Greens, The Number One on a Wheat Everything EXTRA Salmon or, if you're in the mood for a real commitment of a breakfast, do the Hot Pastrami. I've also heard the BLT is delicious.
Survival Tips: Eat your goodies at the counter and feel the nostalgia seep into your bones, Or take it to go and eat while you stroll through McCarren Park just over Bedford Ave. The park has an adorable farmer's market on Saturdays. 
Now that we've fed you, let's talk shopping.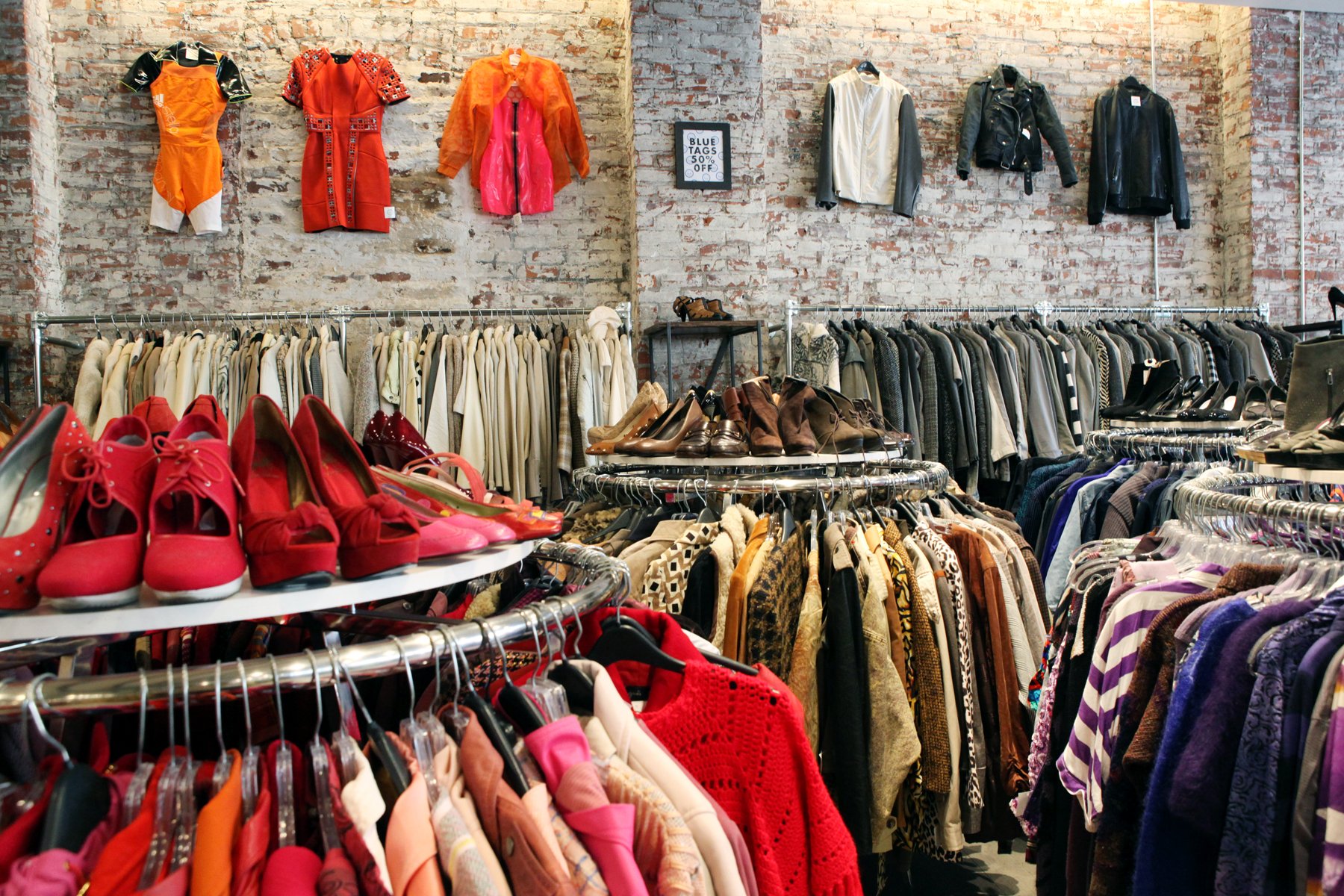 Synopsis in Prophecy Format: Allllllll of your designer deal dreamsssss are about to come trueeeee. Except the one about finding that Miu Miu bag behind a dumpster. You're on your own with that one.   
Keep an eye on: Their lingerie section, denim, shoes and vintage dresses. But really, this store is so big you've got a solid chance of finding gems in every category imaginable.
Survival Tips: Like Five Leaves, Beacon's fills up FAST. Get there early and give yourself plenty of time to look around; you'll be glad you took the time for a thorough sweep.
Synopsis in Haiku Format:
Charming Sales People
Lead You To Your Perfect Jeans
Don't Forget Candles
Look out for: Their plentiful denim selection, cute sunnies, fun prints and jewelry.
Survival Tips: Honestly, just go and enjoy yourself. Nothing to prepare for here but friendly staff and a delightfully reasonable sale rack.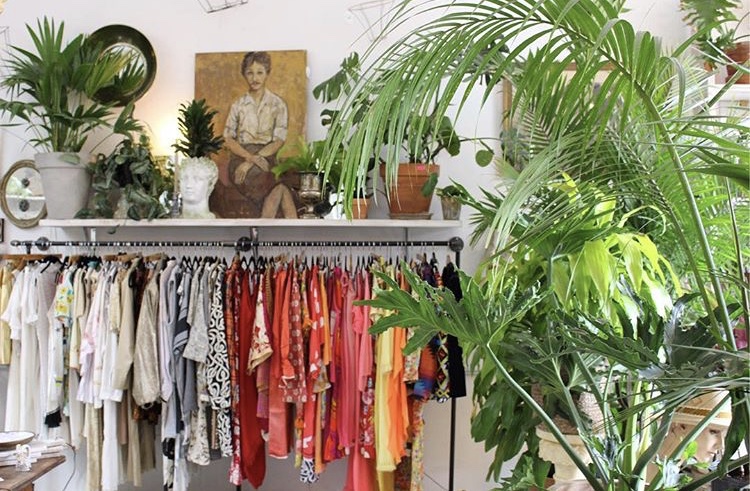 Synopsis in Proposal Format: Feng, this may seem brash, but I tremble at the mere thought of your house plant selection. Say you'll marry me! And that I can wear this dress to the wedding.   
Keep a sharp eye out for: Silk robes and intimates, the most eloquent statement piece you'll ever have the pleasure of donning, home decor, incense, EVERYTHING.
Survival Tips: Give yourself a substantial amount of time here too; you're going to want to bask in the otherworldly ambiance and pay each section its due respect. And be spatially aware. There are breakable valuables aplenty here.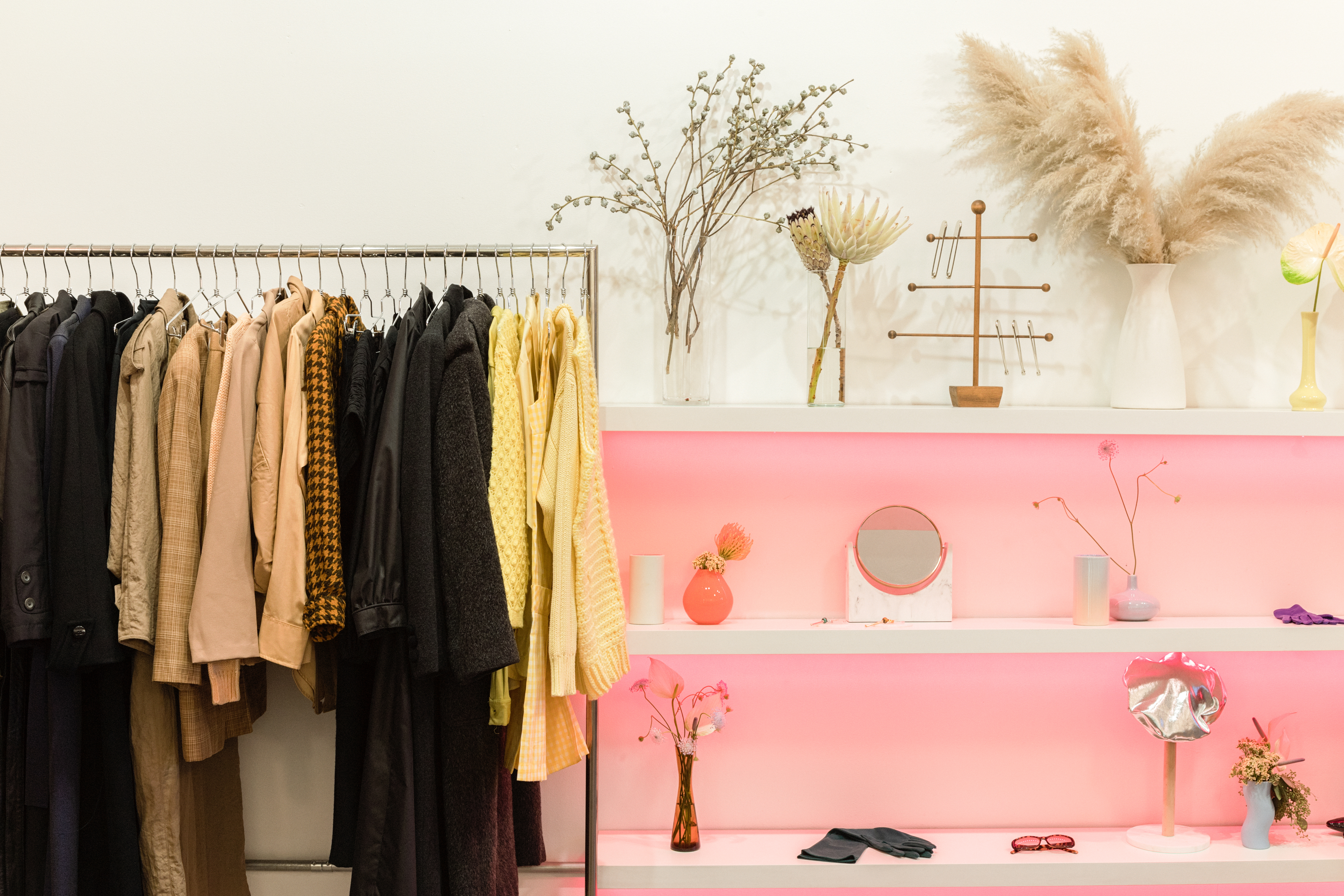 Synopsis in Personality Test Format : ESFP. Extroverted people. Stellar merchandise. Free rose. Party venue extravaganza.
Sniff around for: Classic pieces in bold colors, pretty blouses and their contemporary accessories.
Survival Tips: Unless you have a wine allergy or harbor an intense hatred of fair prices, there isn't much to look out for here.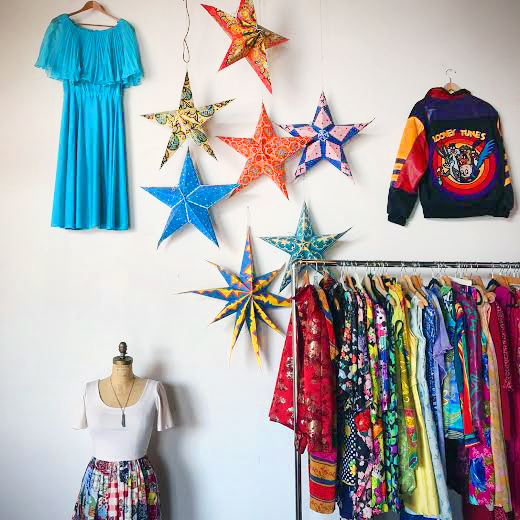 Synopsis in Craigslist Missed Connections Format: I spotted you, or rather your mustard velvet ottoman, while on the tail end of my morning speed walk last week. I can't stop thinking about your lofty ceilings and impeccable rug selection. Can I take you for a nice glass of furniture polish one night?  
Set internal alerts for: Small decorative home pieces, their scarf selection and fun going out stuff. In general, don't overlook the clothing section.  
Survival Tips: Dobbin has beautiful furniture, so if you're in the market you may want to look into some sort of truck/private jet to transport large items. And if you're not in Greenpoint but have a hankering for some Dobbin St. goodness, they have two more locations in Bushwick and Williamsburg.
Shopping completed. If you need more retail therapy, hold onto your britches; I'll list a few more spots in a bit. But first, let's talk drinks. Wash down those purchases with *vigorous drumroll*: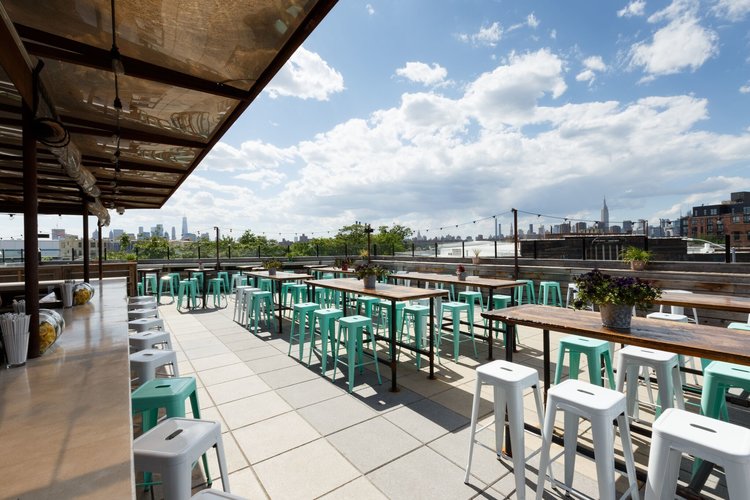 Synopsis in Metal Song Format: 
YOU DESERVE A COLD BEVERAGE, AND A VIEW OF THE SKYLINE, GO TO NORTHERN TERRITORY, IN THE SUMMERTIMEEEEEEE
Expert Tip: Have someone scope out a rooftop table while you get the drinks; they can be scarce, especially on Summer weekends. If you're peckish, they have excellent food. The grilled skewers are especially delightful.
Haven't had enough? You stalwart pioneer. Here are a few more ideas:
Craving a sweet treat? Van Leeuwen
Seeing visions of pizza? Paulie Gee's
Someone unsavory asks you to send noods? Xi'an Famous Foods
Rooftop drinking isn't your thing? A Bar for dive bar ambiance, Ramona's for a fancy cocktail sort of deal.
Must have pizza but you're vegan? Screamer's  
Need to try Greenpoint's traditional Polish food: Krowlewskie Jadlo
Go forth and conquer, my little hangry shoppers.