There's been a territory dispute raging around my skull for some time now. I feel about a vintage scarf the way Jiro feels about his sushi. Especially when they're simultaneously silk and eccentric. And I live to tie them in strange ways around my neck. But I also enjoy earrings the size of Spongebob Squarepants eyes. And trying to wear two statement accessories on one body part can feel like making Beyonce and Aretha Franklin share a microphone. Sometimes, greatness just needs its own spotlight.
There's also the inescapable fact that scarves aren't typically a sensible thing to wind around your sweaty neck when the sun is beating harder than the bass at a Skrillex show. Sure, there are plenty of ways to avoid that issue. I could wear them as a bracelet. Anklet. Top. But I want to venture out on the vast prairie that is my bod. So here's what I've been doing lately:
I let the earrings stay lodged in their usual holes and relocate those silky suckers to my belt loops. But I don't wind them all the way around my hips because that brings me back to my middle school days. Which makes me cringe. Which encourages wrinkles. So instead, I keep it simple and tie that scarf through two thumb-hooks. Eyeball exhibit A: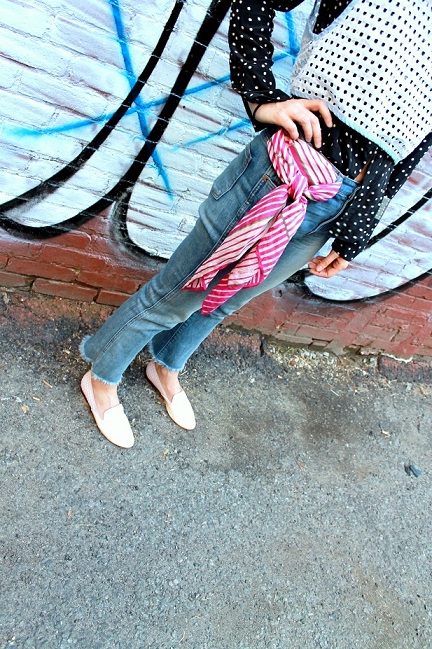 Is there any functional value to this method? Not at all. But it looks slightly like an off-kilter fanny pack, so that's a plus. It also gives you the thrilling opportunity to play eenie meenie miney mo with your hip bones if you can't decide which side you want to highlight that day.
So, what do you think? Want to try it? Send me photos and let me know what you think.
The featured bracelet and earrings from the first outfit are from a wonderful Denver-based company called Canned Goods. They're doing some truly great things so check them out.