Brethren! Welcome to my summer outfit idea. Question for you: do you know anyone who has or knows how to steal a yacht? If so, please send me their email, Instagram handle, and home address. If not, join me on this proposition: any location may be treated as if it's a large and luxurious watercraft. Grocery store? Lounge across the table with the sliced bread. Tell concerned customers and management that you're working on your mental tan. Subway? Yell "abandon ship" every time the train stalls. Obviously, wear nothing but a terrycloth robe, bedazzled sunglasses and platform flip flops.
Should I go missing, I'd like my description to go as follows. 26 years old. Luscious brown hair. Charming gait. Dressed in Yacht Wear with a Hint of Trashy. Last seen clutching a jar of pickles. Should the public demand it, here's a reference photo: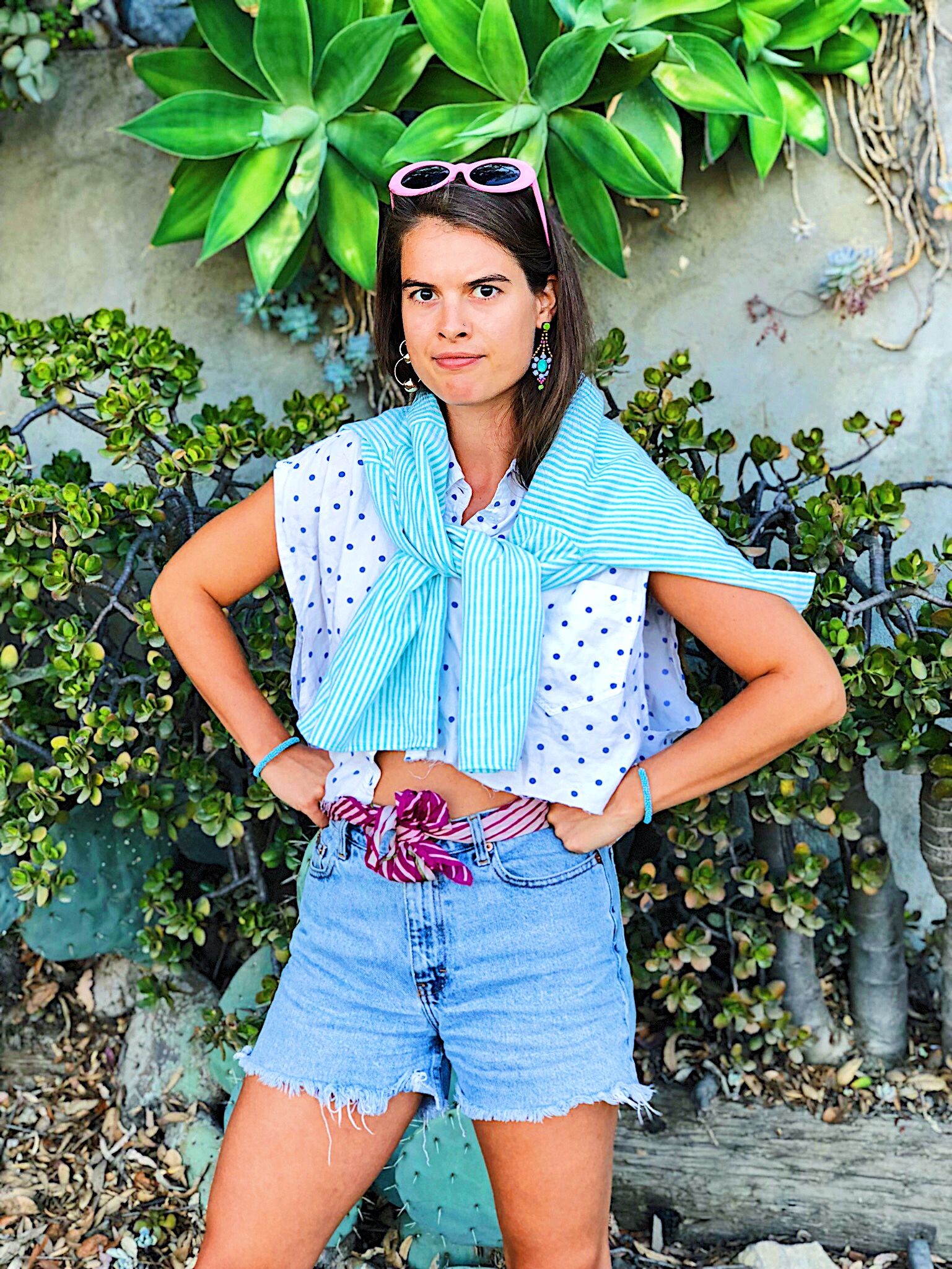 Clearly, there's a lot to unpack here. We have the superfluity of the cotton striped top tied around my shoulders. The silk scarf worn as a belt. We have polka dots. Two different earrings worn under the same brain. Another set of hoop earrings worn as matching bracelets. We have denim cutoffs, for heaven's sake. In essence, I'd say we're looking at the perfect outfit for a Kooky Cruise themed evening at the Golden Corral.
But that's not to say we're without a bit of practicality. Wearing two different earrings could be your key to getting two free samples at Trader Joe's depending on which way you have your head turned when you walk up. Yacht Wear pared down with severed denim actually prepares you for myriad situations because you're dressed up, but not overly so. Spectators may admire your taste in bold eyewear without feeling intimidated in the face of excessive grandeur. AND, the belt may be removed and used to wave goodbye at passing strangers in the middle of the street. Truthfully, I see no downsides here.
How do we feel about Yacht Wear? Send a singing telegram to let me know.
Striped top, sunnies, blue hoop earrings worn as bracelets and the gold earring on the left are from Awoke Vintage
Shorts from Buffalo Exchange
Colorful earring on the right is from Worship Vintage
Everything else is from random estate sales.