Fall is the season of change. The leaves to orange, the air to crisp and my smile to a grimace.
I don't hide my dislike for the cold. But I do find solace in pieces of clothing that have purposes other than keeping my internal organs from freezing solid. This year, I've found two new coats to fill the void left by bikini tops and outdoor pools.
Slide One:
Don't tell Barbie I stole her sunglasses. She'll never see this blog post, because her computer and phone are made of plastic.(They're actually from Awoke vintage.) I found this gold leather superstar of a coat at The Dobbin Street Vintage co-op, which has quickly become one of my favorite shops in New York. Stop in if you prefer stellar prints and fair prices. I found the jeans at a little Greenpoint denim hub called Mirth on Manhattan Avenue. And that dainty necklace under my pink scarf? From my favorite Bushwick vintage spot: Worship.
On we go.
Slide Two: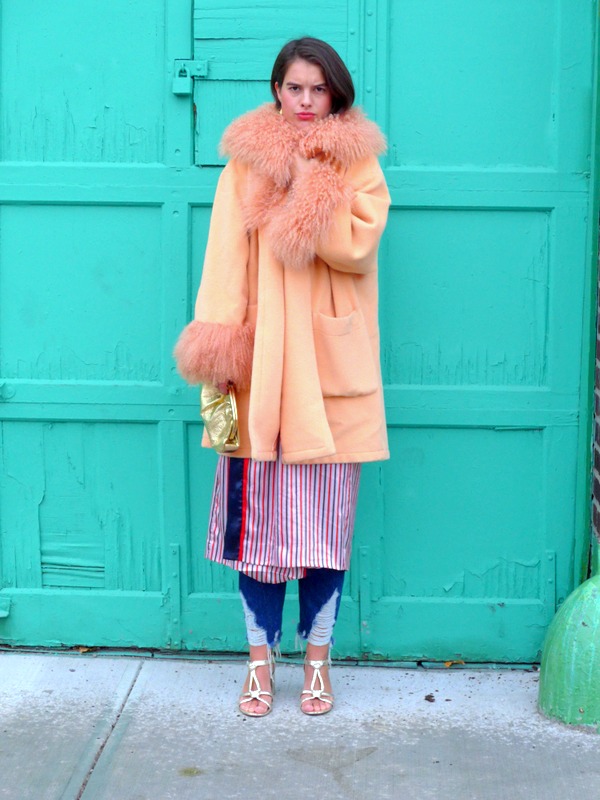 Did you know that you needed a coat reminiscent of Big Bird after a long dip in a bath of red wine? Neither did I, until my friend offered one to me. She was moving to Germany. The coat belonged to her grandmother. I found a sleeve of smarties in the jacket. A poetic moment, to be sure. Both the jeans and the shoes were a product of braving the crushing masses of fellow shoppers at the Greenpoint Beacon's Closet. I'm sorry to say that my clutch, silk robe and top layered over it are all from estate sales in the middle of nowhere in North Carolina. I wish I could be of more help there. The earrings, however, are from my absolute favorite sustainable jewelry company: Canned Goods. They're wonderful people and all of their products are made from recycled cans.
Adieu for now. If you need me, I'll be along the road somewhere attempting to hitch a ride to Brazil.